Information on Limo Buses & Limousine Cincinnati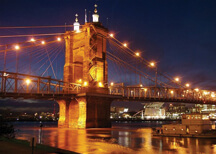 Cincinnati is a great place to be. There are lots of different things to do for fun. Adding a limo bus into the mix makes the night even better. Our company has the best vehicles and staff around. Our buses are top of the line, luxury transportation. They are always in top notch condition, by having them maintained before and after each trip. We are always upgrading them to whenever possible. They are full of amenities that keeps our customers enjoying their time to where they don't want to leave.
Our customer service agents also have a big role in your experience with us. They are the first people you talk to. They are friendly, helpful and nice, everything that you would want in a customer service agents. They are here to help you feel comfortable in renting a limo bus. They will answer any and all questions you may have. When you call to get a price quote or to set up your reservation, they only want the best deal possible for you.
The people behind the scenes who are making it possible for you to have the best night, would be the mechanics. They maintain and upgrade the vehicles so that you and your guests are safe but also have fun. Lastly, you chauffeur that you will have, are professional chauffeurs. They were screened before they were hired with a background check, health check, driving record and a driving test. They are the best of the best.
You can have the utmost trust that your night will be the best night you have had. You can focus on having fun and enjoying yourself rather than focusing on other details. Your transportation will be taken care of by professions and will bring safety and fun for your passengers. Don't wait to call us as we book pretty fast. Make sure you call well in advance for your event so that you can have a guarantee that you have a bus. Thank You!