Welcome To Cincinnati Limo Service!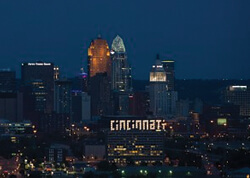 If you are looking for something fun and different to do when you are with your friends, why not Cincinnati limousine service. Hit the town in one of our luxury party buses. Cincinnati is a great place to go out and do something. There are options like clubs, restaurants, sports games and more. You won't have to worry about drinking and driving or finding a smelly taxi because you will have a chauffeur who will make sure that you and your guests get to where you need to be on time and safely. And when you combine our absolutely phenomenal service with the outstanding destinations in Cincinnati you have a true winning combo. We know that you are not going to want to miss awesome locations like the Cincinnati Zoo, the Cincinnati Art Museum, American Legacy Tours and the Cincinnati Observatory just to name a few. Let us transport you to these find sites and many more. Just make up an itinerary and we can make it happen.
Cincinnati Limousine Service offers the best party bus and limo service in the Cincinnati and Greater Cincinnati areas. Our most popular events are wedding transportation, bachelor & bachelorette parties, birthday parties, night out and school dances. Also, we take a lot of customers to sporting events. limo service is perfect for all types of events especially for teenagers. Sweet sixteen parties, prom, and graduation parties are some of the events that a teen encounters. We are not limited to these events in no way. And we have not met an event that we could not make better. In fact, Cincinnati limousine service limo vehicles were tailor made for making sure that the party will never end. If you are interested in learning more about our party buses, visit our party bus page.
We're great for events, especially those where there's drinking involved. When there's drinking, there's an added worry about how you're going to get home. Designated driver, taxi, walking, driving or some way else. No one likes to be the designated driver. Taxi's can take forever plus you can't fit a lot of people. Walking is, well, awful. And driving is dangerous both to you and others. Getting pulled over for drinking and driving or getting into an accident can cost way more than the price of a party bus. And think about it, if you carpool, your group will be constantly split up only to fight traffic, spend time and effort looking for a parking space only to come back together again and again. Why? Don't waste precious time when you can have everyone together for your entire experience.
Heading to each destination you can have the party going non-stop. That's another great reason to have a limo or party bus. You don't have it wait. Start pre-gaming before the bars by getting a drink from the bar area. Dance in the color changing lights to loud music playing your favorite songs. The chauffeur will deal with all things driving and get you to your destinations on time and safely. believe us, we have thought of everything in terms of fun amenities. You won't believe it as you look around and find granite top bar areas with built-in coolers of ice for your favorite libations. We have also installed a special wood floor area for dancing with has a dancing pole for busting a move. Need a place to sit down and catch up with friends? We have just the place, a luxurious wraparound couch area. And if you need your multimedia fix, you will find multiple high definition screens with DVD capabilities and a premium sound system with subwoofers. Now you can see why the fun will never end as long as you are riding with Cincinnati limousine service.
With Cincinnati limousine service or charter bus you can travel anywhere in the state of Ohio. You won't find any place that offers up-scale premium vehicles like us perfect for wedding transportation. Take your time and explore our site. Take notes about any questions or concerns that may come up. Then, when you are ready, contact our customer service office. Our agents are available 24/7, 365 days a year for your convenience. One thing Cincinnati limousine service will promise you is you will never be pressured into making any kind of decision. if all you want to do is talk and ask questions that is fine by us. But when you do feel ready to take the next step, one of our specialists will be more than happy to walk you through the easy and painless booking process. So, if you have questions or would like to start making your reservation, give us a call at 513-657-2996. Thank you and we look forward to talking to you about all of the possibilities of being your premier luxury transportation company.